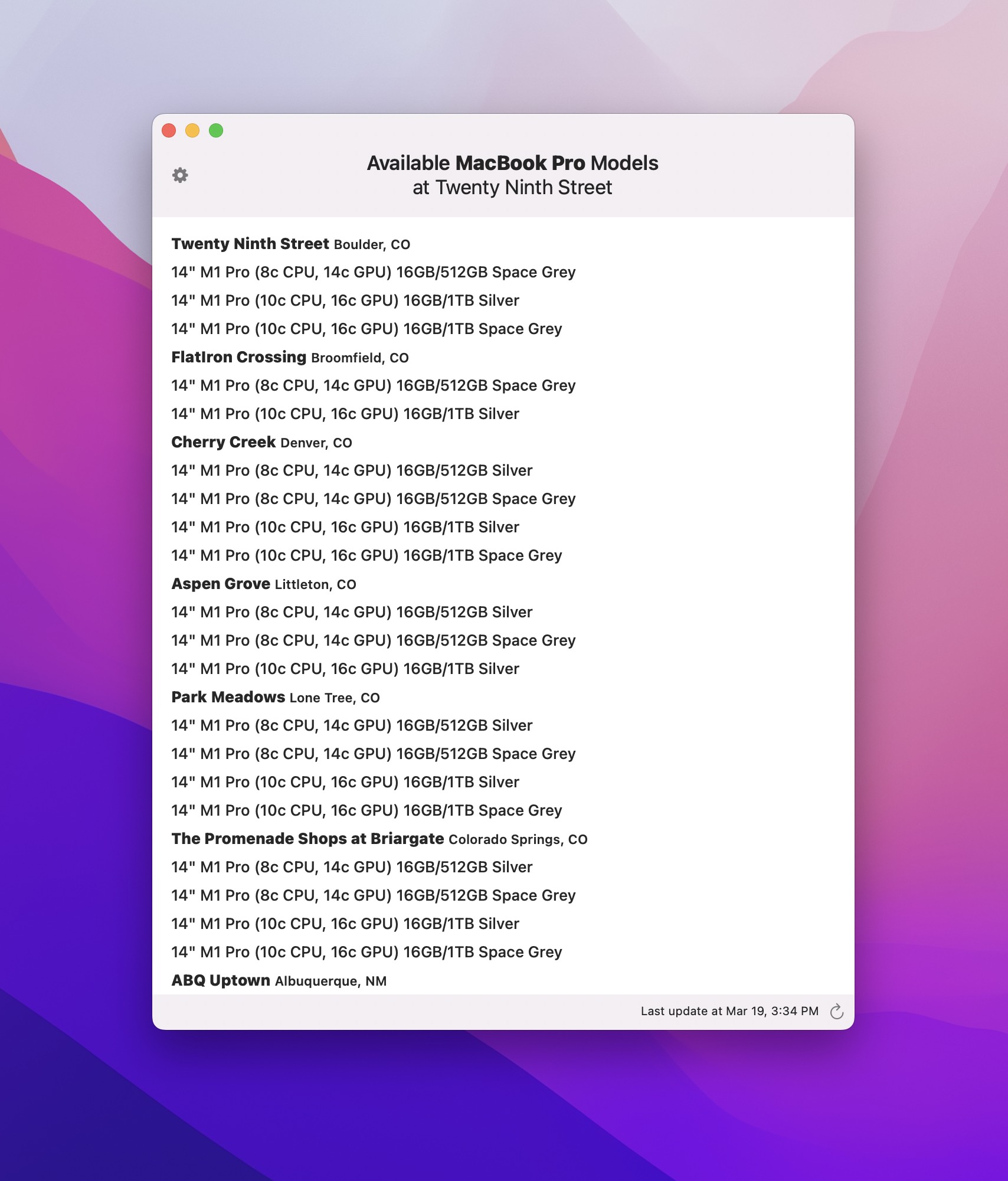 Note: If you're seeing an "Apple fulfillment API" error, try updating to the latest version of the app.
What is InventoryWatch?
InventoryWatch is an app for macOS that monitors local Apple Store inventory and notifies you when your preferred model comes in-stock.
Why do I need that?
Ordering a new Apple product online can often involve monthslong shipping times and frustratingly vague delivery estimates. InventoryWatch is designed to help you jump the line: Apple Stores frequently (but irregularly) get fresh stock of hard-to-find products. When that happens, InventoryWatch will notify you immediately, so you can place an in-store pickup order and get your product in minutes instead of months.
What products does InventoryWatch support?
InventoryWatch can monitor local stock for the following products:
M2 iPad Pro (11in and 13in) (new)
iPad (10th Gen) (new)
USB-C to Apple Pencil Adapter (new)
Apple Watch Ultra
iPhone 14 Pro
iPhone 14 Pro Max
iPhone 14
iPhone 14 Plus
AirPods Pro (2nd Gen)
M2 MacBook Air
MacBook Pro (14" and 16")
M2 MacBook Pro 13"
Mac Studio
Studio Display
iPhone 13
iPhone 13 mini
iPad mini (wifi and cellular)
Note that not all build-to-order configurations will be stocked by Apple Stores (this is especially true for MacBook Pros). InventoryWatch only lists configurations that are known to be stocked by Apple Stores.
Don't see your product on the list? Add an issue to the Github project here.
Does InventoryWatch support my local store?
InventoryWatch supports querying in-store pickup stock in several countries:
United States
Canada
United Kingdom
Australia
Germany
South Korea
Hong Kong
France
Italy
Japan
Austria
The Netherlands
Thailand
Don't see your country on the list? Add an issue to the Github project here.
How much does all of this cost?
InventoryWatch is free, and does not collect any identifiable information about you. Anonymized usage statistics are collected.
System requirements?
macOS Big Sur 11.5 or newer. InventoryWatch is built with SwiftUI.
---
Ready to go?